Tuesday Classes in Chiswick for ALL LEVELS
---
Every Tuesday: Salsa Classes for all levels* and Social in Chiswick, West London.
Crossbody on1 style.
(*Please note: Beginners level taught as a course, see separate info)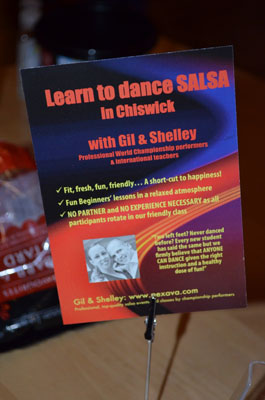 Teaching together and with full attention to both leaders and followers, Gil and Shelley enjoy helping their students become accomplished dancers, with moves that will really work on the dance floor, in a fun and supportive atmosphere. They enjoy helping students of all ages and abilities to reach their full potential, whether they wish to become accomplished dancers of international performance level, or to have a social dance at a local venue every now and then. Gil and Shelley are acknowledged as among the best teachers in the UK, together with their friendly and professional Pexava Dance teaching team, including Susan Yeates, who is an experienced performer with Pexava Dance Company.
Recent Testimonial: "The joys of Pexava salsa for me are the seamless integration of movement, music and partnership all enhanced by technique. The Pexava teachers definitely spread magic dancing fairy dust on every single student as soon as you step in the room. I could wax lyrical for pages about the inspiring artistry, humility, generosiry, humour, rigour, warmth and lightness of touch purveyed by Pexava's teaching but either you know this or come along and you'll immediately feel it!" Luli. September 2012
You do not need a partner to attend any of our Tuesday classes. We rotate partners in every lesson and salsa is all about being sociable. In any salsa night, you are positively expected to dance with lots of fellow salseros or salseras, which is one of the many reasons it is so much fun!
If you are a Beginner: All our Beginners lessons are taught in a course-based format with weekly lessons for one month, at which point you will be assessed and advised on your progression. In order to begin learning with us, you will need to come along at the beginning of the month where you will meet more people (and future salsa friends!) of the same level, in order to sign up for a Beginners Course.
If you are an Improver, Intermediate, or Advanced dancer, drop-in classes are available on the following days/locations:
Tuesdays – Chiswick – 7.30-8.10pm (Improver Plus - **starting in Jan 2013**) 8-9pm (Intermediates), 9pm-10pm (Improvers and Advanced, taught separately). Social dancing to 11.30pm,
Click HERE for more information
Venue: Comedy Club, George IV, 185 Chiswick High Rd, London W4 2DR.
Less than 5 minutes' walk from District/Piccadilly Line (Turnham Green).
Free on-street parking from 7pm.
Gil and Shelley. Salsa Classes and more in London with Championship competitors.